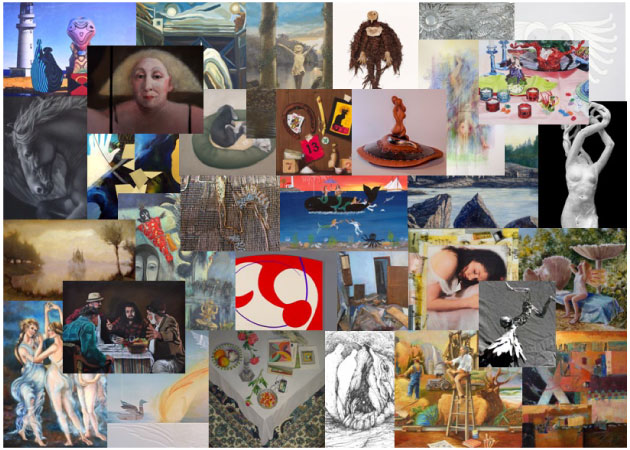 Since June 2016 you need to have a valid API key enabled to display Google maps, see plugin settings
From 12.00 am until 5.00 pm
At Oxford Gallery
267 Oxford Street, Rochester, NY 14607
Artists' Reception: Saturday, May 14 from 5:30 to 8:00 PM
Myths and Mythologies will exhibit interpretations of the theme by over 50 artists. From the dawn of civilization, mankind has expressed its desires and yearnings, its fears and anxieties, in terms of mythological systems. While the term "mythology" usually invokes for us stories and characters from the pages of Homer or Hesiod, Ovid or Virgil, the mythologizing impetus has not been confined to classical societies.
We need only reflect upon the works of J.R.R. Tolkien, C.S. Lewis, or J.K. Rowling - and their cinematic counterparts - to recognize the pervasive presence of mythologies in our own time. To American mythologist Joseph Campbell, all myths share a common ground: "Myth opens the world to the dimension of mystery, to the realization of mystery that underlies all forms." Mythology is, for Campbell, "the homeland of the muses, the inspirers of art, the inspirers of poetry."
But "myth" need not connote "mythology" in the sense of a large and interrelated system of stories exploring fundamental human attributes and dilemmas. Few topics have preoccupied modern linguists and intellectual historians more than the myriad "myths" which permeate our lives and are propagated daily by politicians and advertisers, among others.
We all know, for example, that accumulated wealth "trickles down," that blondes have more fun, and that Germans make better automotive engineers, not to mention the many "myths" associated with religion and ethnicity invoked during our current presidential campaigns. To modern French philosopher and linguist Roland Barthes "Myth is a type of speech…It is a mode of communication." To Barthes, myth is inherent in the use of language itself.